7 September, 2023
Rainforest treasures nurtured by nature
WHEN Rainforest Heart owners Vanessa and Sean Gillen arrived in Far North Queensland in 2009 from Sydney they fell in love with the whole region.
By Brigitte Daley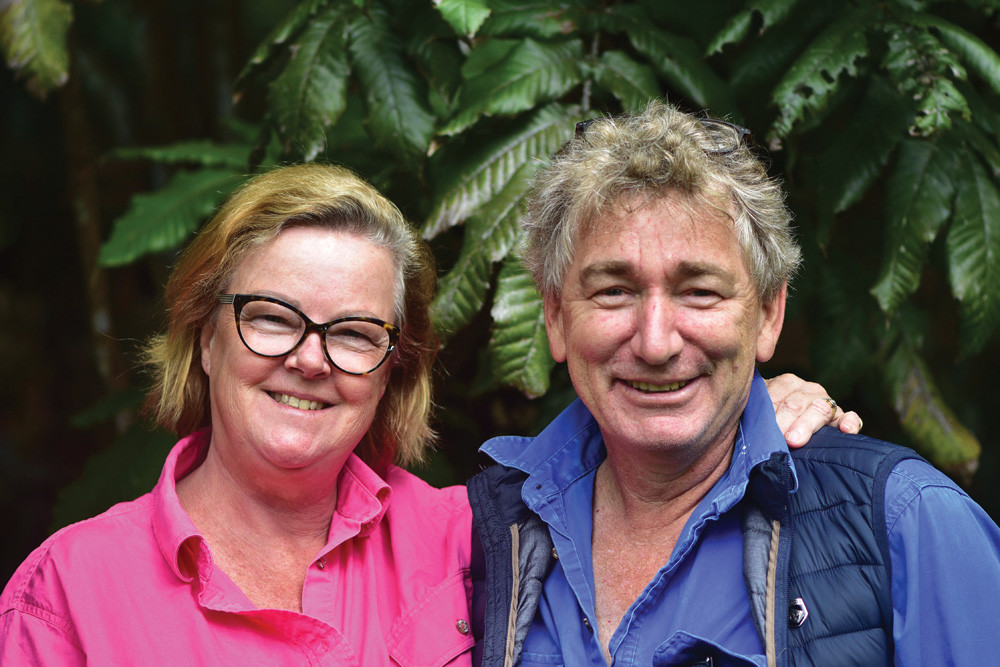 They started out in Cooktown for two and a half years where Sean worked with indigenous groups in Hope Vale attempting to grow bush foods which started his love of them.
When they saw the opportunity to buy Rainforest Heart, a tropical bush food orchard in Millaa Millaa, they couldn't resist.
Now they are committed to continuing the low-impact and sustainable production of native rainforest bush foods of the previous owners, which is in harmony with the pristine neighbouring World Heritage National Park.
"I just love the rainforest and all of the unique trees and fruits we find, so it makes us pretty happy to own this extraordinary part of the world and be able to explore it daily," Vanessa said.
The 168ha property was purchased 18 months ago in January 2022 and has 8.5ha cleared for the tropical bush food orchard.
Davidson's Plum (two varieties - Pruriens and Jerseyana), Lemon Aspen, Rainforest Cherry, Herbert River Cherry, Finger Limes and Rainforest Boonjie Tamarind flourish there.
Other species also grown include Lemon Myrtle, Anise Myrtle, Cinnamon Myrtle and Atherton Oak.
All trees were already planted when the property was purchased with most taking up to seven years to start fruiting.  Vanessa and Sean continue to plant all the time as well as the orchard self-seeding.
"We were very lucky to be able to buy an orchard with trees that are 20 years old with a second orchard of trees which are seven years old," Vanessa said.
"We have over one thousand Davidson's Plum trees and hundreds of Lemon Aspen and Rainforest Cherry trees.
"Probably the most significant thing about most of these fruits is that they are endemic to the region and the rainforest environment which assures their success.
"Last year was a very low yield year and this year has been better.
"Although we have had a lot of rain this year, we hope that 2024 will also be another good harvest year for us.
 "Lucky for us the fruits mainly fall to the ground and we collect them in buckets.
"We put ground sheets down so the fruit remains clean and easy to see.
"With the Davidson's Plums it is a daily check of the orchards all year and we use litter pickers to collect the plums as they have tiny hairs on them that get into your skin and clothing.
"Often, we are competing with our local cassowaries to get the fruit off the ground and they will sometimes put their heads in the buckets to help themselves! 
"With the Lemon Aspen this year we had a huge harvest.
"These are the fruits that need to be cut in bunches from the tree and then we have to pluck the stalks off them, so it is very time consuming/labour intensive.
 "We ended up getting friends for weekend working bees to help us pick and pluck the Lemon Aspen."
In 2015, previous owners Peter Lawlor and Margo Watkins, pursued the health benefits of native fruits by producing native bush food powders, on top of their successful wholesale raw fruit sales.
"The innovation process and result (dried products which are lightweight and can ship relatively easily) has also made us realize that we can now really utilize online opportunities to directly reach our ultimate audience (everyday consumers), instead of using the traditional wholesale distribution models," Vanessa said.
Davidson's Plum has a multitude of health benefits, including having three times more antioxidants than blueberries. 
"There is an increasing interest from overseas in both Davidson's Plum and Lemon Aspen in both health properties for drinks etc as well as in the unique skin care qualities, especially extracted from Lemon Aspen," she said.
Pure dried fruit powers as well as a fortified fruit wine have contributed to the success of the thriving value-adding business.
Other health benefits of the native tropical bush foods include anti-diabetes and anti-obesity properties.
"Our products are focusing on the health properties of the fruit, which we achieve through drying," Vanessa said.
"Other producers of bush foods in this region tend to use the fruit for wet products but we have moved to making powders and dried products using the fruits, for better benefit.
"Our products are recipients of Australian Food Awards recognition including gold, silver and bronze which were won in 2016 at the Australian Food Awards by the previous owners."
Having a sustainable farming system which increases wildlife habitats is important to Vanessa and Sean.
"We have recently become a recognised Wildlife Land Trust Sanctuary with a focus on keeping areas free of weeds etc as a cassowary corridor," Vanessa said.
"We have about eight cassowaries that we 'know' living in the valley."
For further information, contact Vanessa and Sean Gillen on 0412 318 690 or email info@rainforestheart.com.au or www.rainforestheart.com.au 
Most Popular