21 June, 2023
Records broken at cattle handling school
IT was a hat trick for the 2023 Rabobank Malanda Cattle Handling and Judging School held on 19-21 May, with three records being broken.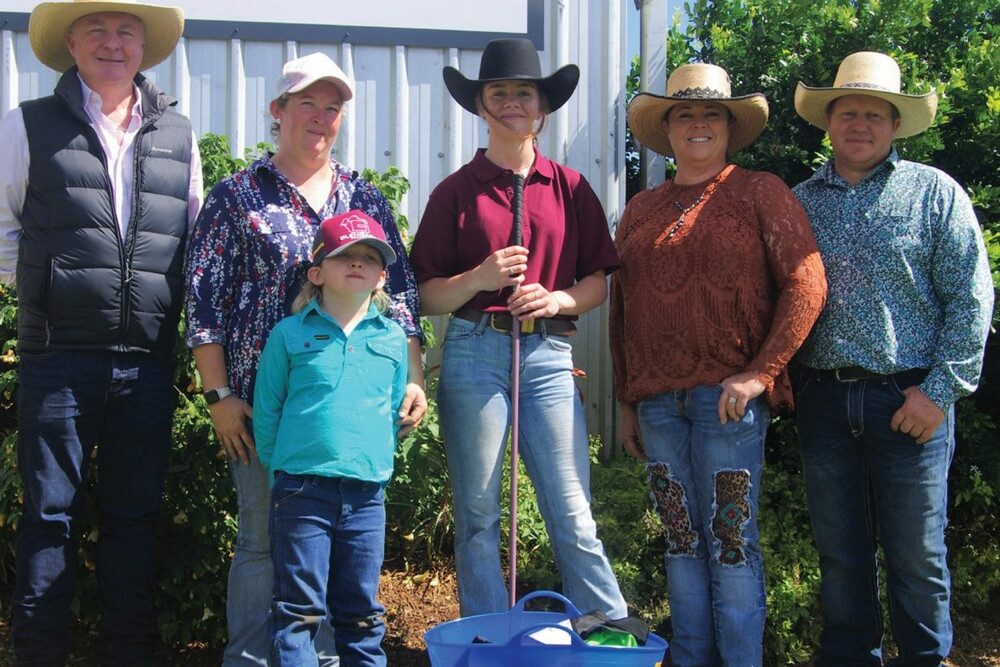 IT was a hat trick for the 2023 Rabobank Malanda Cattle Handling and Judging School held on 19-21 May, with three records being broken.
The highly popular cattle school, which is now in its 23rd year, drew participants from all over North Queensland and from as far away as Charters Towers when it was held at the Malanda Showgrounds.
Proudly coordinated by the Malanda Show Society, it attracted students from high schools from Malanda, Atherton, Innisfail, All Souls St Gabriels, Columba Catholic College, Blackheath and Thornburgh College and Calvary Christian College, along with a group of independent participants.
There was a record number of 120 participants, a record number of schools and "The Jenny Williams Overall Champion Parader" was won by Malanda local Naomi Godfrey for the third consecutive year.
Malanda Show Society president Greg English said he was not aware of any other participant having won the award three times in a row.
"It was a fantastic weekend, best camp so far," he said.
The late Barry Cockrem, who was a life member of the Malanda Show Society, was instrumental in founding the Beef Cattle School. His daughter, the late Jenny Williams, was a previous coordinator of the Beef Cattle School and a past secretary of the Show Society.
The "Jenny Williams Overall Champion Parader" is awarded each year in her memory.
Naomi, who is 16, became interested in parading cattle when her older brothers participated with Malanda High and she wanted to do the same.
"My dad has helped me a lot and Tammie Robinson has inspired me to be better as a parader," she said.
"I like parading cattle as it shows the hard work you have put into the animals and I like having a connection with the animal as well."
When it was announced that Naomi had won the prestigious award for the third time, she was ecstatic and couldn't believe it.
"It just shows that hard work and determination pays off," she said.
All schools competed for the Grandelis Family Trophy.
Carl was the show manager for several years and both he and his wife Dianne are still very supportive of all activities associated with the annual Malanda event. He recognised the need for and importance of acknowledging the overall winning school.
The Cattle Handling and Judging School aims to educate participants on both the basic and more advanced cattle handling and judging skills in preparation for the up-and-coming Agricultural Show circuit in North Queensland.
Guest presenters, Julie and Travis Pocock-Iseppi from Ellendale Simmentals at Thornton, Lockyer Valley in Southern Queensland, along with Toowoomba based Elders Stud Stock Agent Andrew Meara, were invited to lecture at this year's camp.
These three professional industry representatives were also supported by local exhibitors and education staff to deliver the three-day program.
Julie judged the parading skills of the participants on Sunday and said it was great to see a lot of kids with no experience step up and walk away with more skills than what they came with.
"There was a good number of experienced participants that would compete at a high level anywhere in the country," she said.
Guest presenters lectured the students on some key factors including ring craft and dress, parading and judging, knot tying and preparation of the animals including washing, grooming and clipping.
The course content also included information on prime cattle with reference to market suitability.
Students were lectured on terminology of commercial cattle judging and were then given an opportunity to speak and judge on a pen of animals.
The competition was extremely close again this year with reigning champions All Souls St Gabriels from Charters Towers winning for the third year in a row and being awarded the Grandelis Family Trophy.
Malanda State High school came a close second, followed by Columba Catholic College and Atherton State High School who tied for third.
Most Popular