2 October, 2022
Records tumble at Telpara sale
WHEN the first bull offered at auction achieved a $55,000 opening bid online before the assembled gallery got the chance to raise a finger and then went on to sell for a new Australian record, you just knew it was going to be a cracker of a sale.
By Sally Turley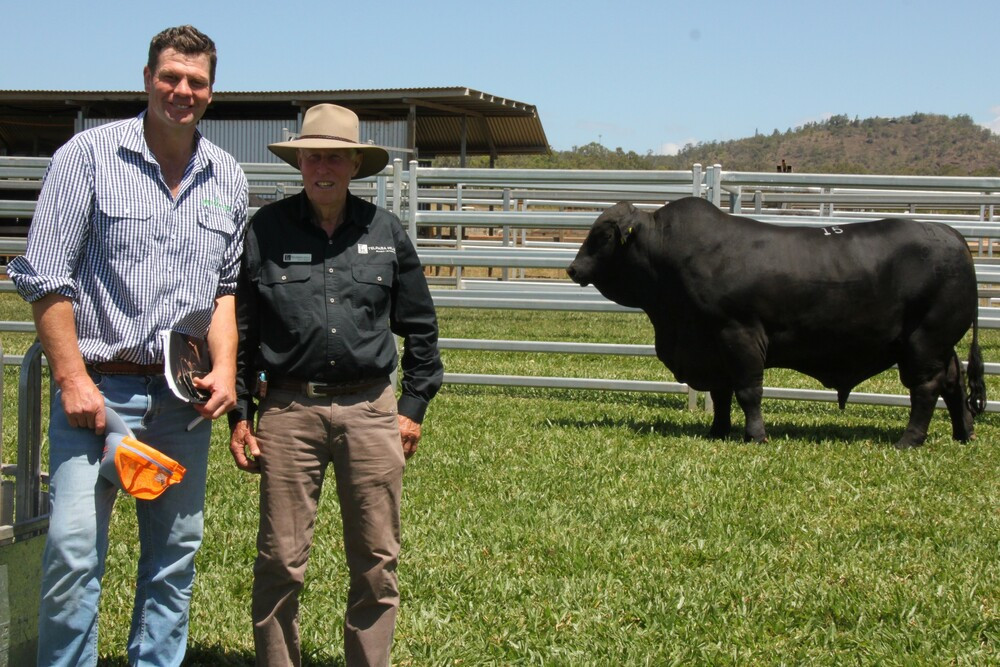 The 2022 Telpara Hills Brangus and Ultrablacks Most Wanted Bull and Female Sale achieved a 100 per cent clearance and broke a swag of records last weekend, dispersing the Telpara brand across every Australian state and territory, except Tasmania, and achieving averages of $19,168 for sires and $23,694 for females in the process.

Telpara Hills Mach Five 920R4, the 30-month-old, 1075kg son of TH Kenworth 392L4 and TH Miss Big Town 920N29 was pur-chased for $150,000 by Will and Tempe Caldwell of "Milwillah Angus", from Young, in the heart of the Hilltops region, New South Wales.
Establishing a new record for the highest Australian priced Brangus bull and matching the world Brangus record was only the beginning.
Telpara also set a new national sale record for the Brangus fe-male average of $23,694 and a new national Brangus on-property gross sale record of $3,019,000.
South Australian-based company "Quality Livestock" bid $44,000 for a half share in the top-priced heifer, TH Miss Telpara Hills Three D 392R15, on behalf of a member of an associated agricultural investment portfolio.
Investment company spokesman David Whittenbury said they had been looking to secure a share in what they saw as the ideal female for the Northern Australian industry for a couple of years.
"Having researched the impact of the sire 3D across the US and Australia and dam TH Miss Real Deal 392K19's dominance within the Telpara herd, coupled with her outstanding phenotype, balanced data set and Telpara's reputation for Brangus of the highest standard, how could we go wrong?" he said.
"The choice to partner with Telpara Hills was an easy one and the opportunity to invest in such a female and work with Stephen and Fiona was an exciting one. If we want to breed the best, we need to buy the best."
In other highlights, Eric and Lynn Slacksmith of "Gladevale Station", Richmond, paid $50,000 to secure 24-month-old Remington son, TH Silverado. He will be put over a herd of grey cows to breed Ultrablack bulls, whose progeny will be grown out on their New South Wales property.
Victoria-based "Lightning Ridge Trust" spent $43,000 buying TH Miss Masonry 541R77. Already well known in the dairy industry for sourcing elite dairy genetics, the company have recently diversified into searching for outstanding beef genetics as well.
Volume buyers, Devine Pty Ltd of Bundaberg purchased 12 heifers, paying to a top of $40,000 for 12-month-old heifer TH Miss
Executive 541S64 and $38,000 for 13-month-old TH Miss Ace of Spades, to average $24,917 per head.
Jarrod and Leanne Deguara of "Bimbora Brangus", "Daunia Station" via Nebo bought a total of six lots to average $27,667. They paid $35,000 each for pigeon pair, 21-month-old sire, TH The Dude541R84 and final lot of the day TH Miss Benchmark 541S8.
Other buyers of quantity included Green Acres Pastoral, Julia Creek, who purchased eight bulls to average $19,250; Tony and Lindy Hick, of "Antrim Station", Hughenden took home seven lots to average $17,143; and repeat buyers, Neville and Heather Condon of King Ranch Tully, who were wanting to breed quality flat-backs, paid an $18,333 average for six bulls.
Speaking on behalf of the family, Brittany Pearce said they were absolutely thrilled with the sale result.
"Breaking the record for the top price Australian Brangus bull was phenomenal and he is going to a very good home at Milwillah Angus," she said.
"TH Mach Five is an outstanding bull in every way and one of the best bulls we have seen anywhere, in any breed.
"We are extremely thankful for the backing we received from buyers and bidders who supported our sale, both on-site and online.
"I will never forget the tears in Trevor Pearce's eyes, who, at 86, was so proud of what we have accomplished and so overwhelmed at seeing the support from so many progressive leaders across the cattle industry.
"I am happy to see that while the sale average was up from last year, in line with cattle market increases, there was still a good con-tingent of bulls selling in that more achievable, $10,000-$15,000 range, making them great value for quality.
"We are looking forward to presenting a younger team of around 100 bulls, with a higher percentage of first cross Ultrablacks by leading Angus sires in 2023, reflecting the exciting results of our Ultrablack program, that will really kick in next year," Mrs Pearce added. 
AT THE SALE...
Most Popular