17 July, 2023
Saints topple Mareeba boys
ALTHOUGH confident and ready for revenge, Mareeba State High School has once again fallen to St Augustine's Cairns in the Aaron Payne Cup at Barlow Park last Thursday.
By Ellie Fink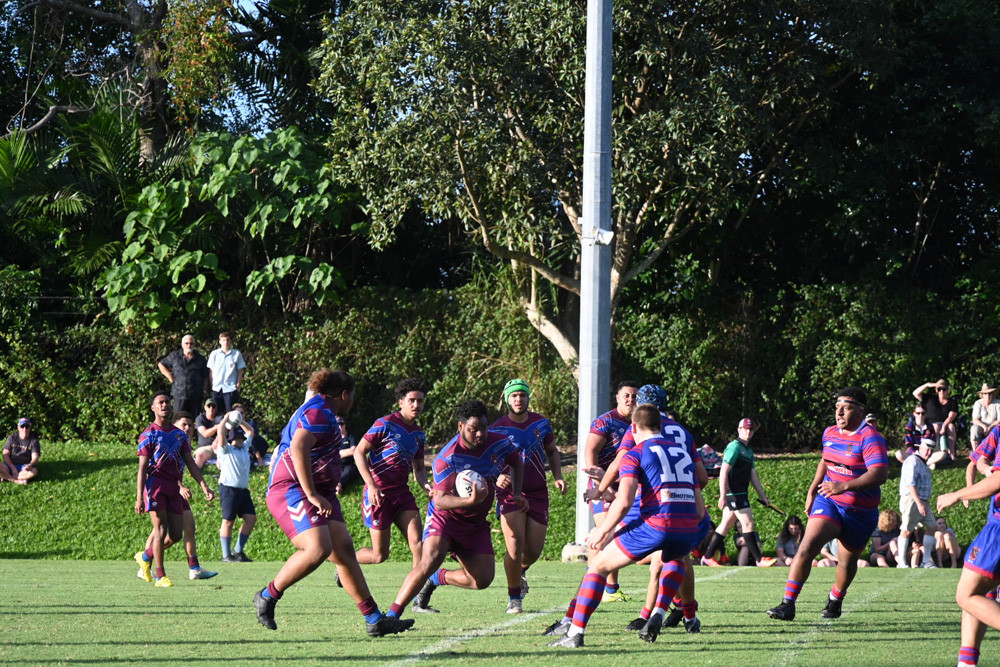 Despite their efforts, the Mareeba team ultimately succumbed to a 26-4 defeat, unable to overturn the 16-4 halftime score in the round four clash.
Among the standout performers for Mareeba SHS were Reece Boyle and Narason Moorcroft-Kose, with Boyle showcasing his versatility and adaptability by seamlessly transitioning into different positions on the field. 
Despite an injury to the regular fullback, Boyle stepped up and delivered an impressive performance wherever the coach required him. 
Moorcroft-Kose, was hot on his feet, demonstrated his formidable presence on the field, consistently making powerful runs that contributed to the team's efforts throughout the entire game.
Although the Aaron Payne Cup Team faced a setback, the younger Cowboys Challenge Team managed to secure a remarkable comeback victory. 
The game got off to a shaky start for the Mareeba boys, with St Augustine's College taking an early lead and displaying dominance on the field during the first 15 minutes. 
However, the Cowboys Team regrouped and unleashed a remarkable comeback, completely turning the tide of the game. 
The team's second-half display showcased their resilience and determination to secure victory, dominating the opposition through their cohesive play, ultimately taking home a win of 28-22. 
Coach Daniel Behn said the younger boys win' gave the team a boost in confidence and hopes both teams will come together and work hard in the lead up to round five. 
"In the Cowboys Challenge game, it felt great to get the win against St Augustine's on their home ground," he said.
"We really wanted the win as they came to our home ground and dominated us in front of our home crowd in round one. 
"We regathered ourselves at half time and played with more resilience and gained confidence when the boys trusted each other and put in the effort."
The Mareeba boys will be heading to Townsville to go up against Mackay State High School once again. 
Semi-finals for Aaron Payne Cup are set to kick off on 9 August.
Most Popular