1 March, 2023
Shire hands over bypass road case
MAREEBA Shire has put forward a strong argument to the State Government that the long-awaited Heavy Vehicle Mareeba Bypass should be built as soon as possible, with Mayor Angela Toppin personally handing the council's submission to Minister for Transport Mark Bailey last week.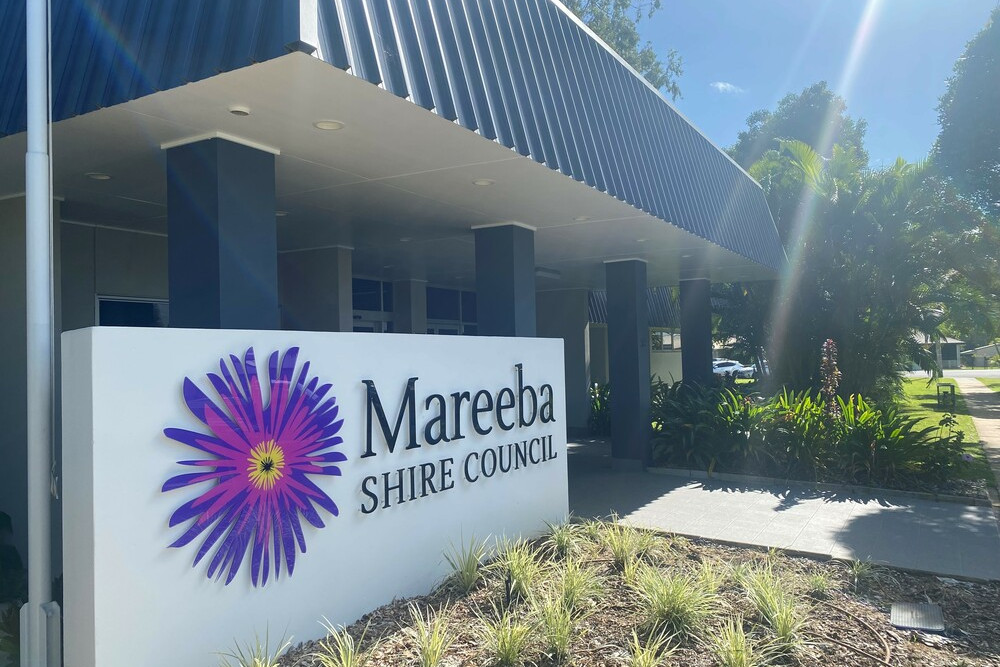 The submission argues the importance of the bypass to improve safety in Mareeba's main street, revealing that Department of Transport and Main Roads (TMR) data from 2020 shows 13,500 vehicles were using Byrnes Street daily, including 1000 heavy vehicle movements.

"In fact, the whole of the state-controlled road network through Mareeba simply cannot cope with the growth in local and regional traffic, with serious congestion and safety issues at almost all state-controlled intersections," Mayor Toppin said in the submission.
"Our community can no longer tolerate this situation and we are calling for action on the bypass."
She said since 2020, there had been a decrease of 1000 vehicles a day using Byrnes Street, but attributed this to the installation of traffic lights and traffic calming measures by the State.
"TMR projects on Byrnes Street have ef-fectively discouraged through traffic from using the main street in favour of rat-running through our town's local streets," she said.
"Since the upgrades on Byrnes Street, council has received various complaints from the public regarding the increase in traffic, particularly heavy vehicles, using local streets which pass by residences, child-care centres, and primary schools."
Anzac Avenue had become another victim of the situation, with around half of the 6,500 daily traffic movements on the street being non-local traffic, "who are using this local street in favour of the congested, inefficient, state-controlled route".
"Additional traffic using local streets, particularly heavy vehicles, has negatively impacted the Mareeba community, as our local streets are also now becoming congested, noisy and unsafe for pedestrians and cyclists," Mayor Toppin said.
"The diverting of regional traffic onto Mareeba's local streets through the Queensland Government failing to adequately manage its state-controlled road network is spoiling the liveability in our wonderful town and simply cannot continue."
Expected growth in industries within the shire also warranted better road infrastructure, and the bypass would also provide a more reliant transport corridor in heavy rainfall events.
As part of your government's review of the Far North Queensland Regional Plan, various opportunities in Mareeba are being proposed, including expansion of agriculture, mining, aviation and potential for significant industrial growth to support future needs in the region," Mayor Toppin explained.
"While the discussions as part of these planning instruments are indicating that Mareeba is well-placed to further develop as a hub for various industries in the Far North, none of this will be possible without investment in an effective transport network.
"When constructed, the Mareeba Bypass will provide more resilient connectivity for the movement of goods and people, and delivery of emergency and other services in times of severe weather events, reducing the impacts and economic losses across the whole region.
"At present, connectivity to Cape York and the Gulf is disrupted during high rainfall events, as the Granite Creek bridge, on the northern approach to Mareeba is regularly inundated, often for several hours at a time and with no viable alternate route available.
"Construction of the Mareeba Bypass, with sufficient flood immunity, is imperative to ensure that Far North Queensland remains connected and resilient in times of natural disaster."
Mayor Toppin stressed council believed the construction of the bypass should proceed as a matter of priority.
"Council has been advocating for the Mareeba Bypass for many years now, and there have numerous studies completed by the department in this time, however it is now time we see action from the Queensland Government to bring this vital project to fruition," she said.
"Construction of the Mareeba Bypass will make an enormous difference to regional freight efficiency and the flow of traffic throughout Mareeba, thus eliminating the need for ongoing and costly upgrades to state-controlled intersections and council-controlled local streets in the future.
"This will greatly improve amenity and safety in the town centre and on our local streets and provide greater opportunities for active transport initiatives and economic growth in Mareeba
Most Popular