13 September, 2023
Special papaya dishes ready for serving up
CHEFS and waitstaff at participating Cairns restaurants are preparing to plate up delicious, nutritious red papaya recipes during the inaugural Papaya Week (11-17 September).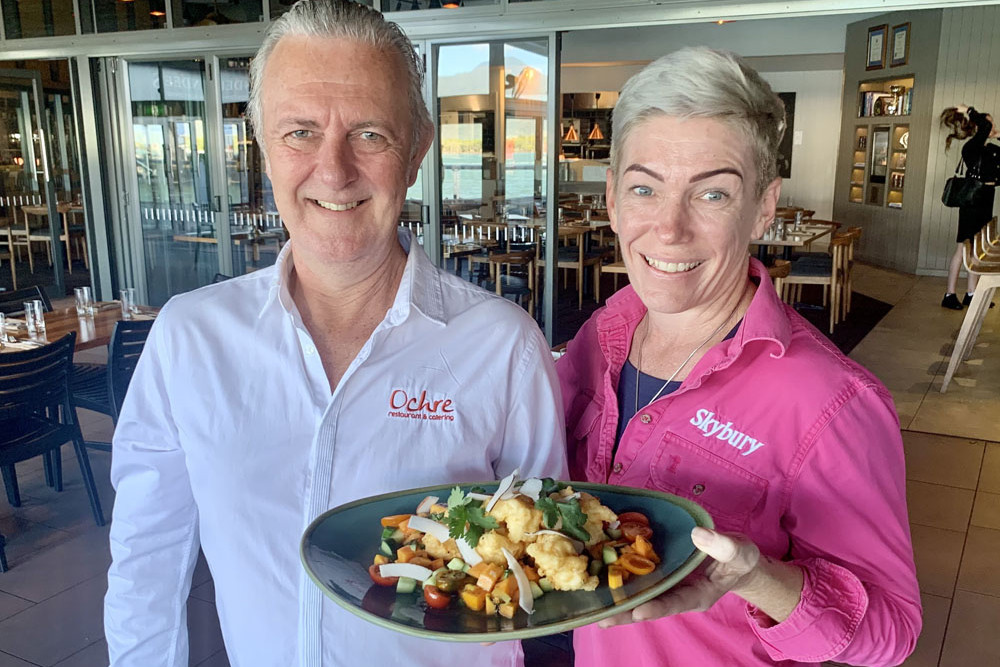 The locally grown superfood is being given a boost initiated by Mareeba grower Skybury Farms.
General manager Candy MacLaughlin said participating restaurants Ochre, Guyala Café, Caffiend and Skybury's own Café had embraced red papaya with creative and nutritious featured recipes during Papaya Week.
"All these local chefs are putting papaya front and centre for breakfast, lunch and dinner all week, so do book a seat at their eateries and embrace the power of this delightful, locally grown superfood," Ms MacLaughlin said.
"Not only is the carica red papaya a nutrient powerhouse, but it is incredibly versatile.
"Our Skybury chef is presenting an Italian classic, a ragu, with a twist - the tomatoes have been swapped out for red papaya and the red wine for our own Skybury papaya vodka, so it's a dish that comes with a kick!"
Craig Squire, who has been featuring red papaya on the menu at Ochre Restaurant for many years, said Papaya Week would give the tropical fruit the focus it deserves.
"Papaya is a rock star for restaurants because it is available 52 weeks a year and it's locally grown. It is also incredibly versatile for both sweet and savoury dishes and we love pairing it with locally caught fish and seafood," he said.
Ochre Restaurant is featuring three papaya dishes – tempura gulf bugs served with papaya, desert lime, coconut and chilli salsa; a salt and pepper chicken with green papaya salad; and a chocolate and papaya mousse dessert with papaya and lemon myrtle sorbet.
Guyala Café has created a breakfast papaya bowl with oats and chia with almond milk, plus a Thai-style Roo Salad with peppered, sous vide kangaroo, green papaya, palm heart and coriander slaw with nước chấm dressing for lunch.
For breakfast at Caffiend there is a papaya bowl with Blueberry and Açai with seeds, nuts, crispy coconut and dehydrated papaya while lunch features Papaya Red Curry served with crispy skin, pan-fried barramundi fillet, papaya Thai red curry sauce and green papaya with palm heart slaw.
Most Popular