10 August, 2022
Studs open gates for Better Beef Day
STUDS across the region will open their gates this weekend as part of the fourth Tablelands Better Beef Open Day.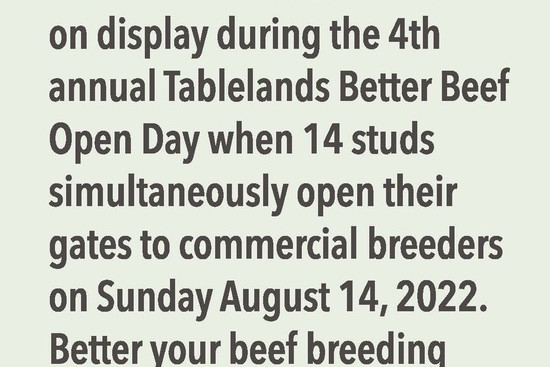 On Sunday, a record 14 studs will participate in the open day which is all about improving the quality of beef produced in the region, according to event organizer Nick Trompf. 
"The Better Bulls Best Beef motto is now more important than ever," he said.
"Processors and feeders will pay a premium for quality cattle and the fastest way to ensure a sustainable improvement in your herd is by investing in the best bulls." 
The Open Day allows visitors to visit the 14 studs in their own time. 
The studs are:
Warrina Droughtmasters

Telpara Hills Brangus and UltraBlacks

Tallangalook Shorthorns and Santa Gertrudis

Reedybrook B Brahmans

Pinnacle Pocket Senepols and Composites

Millstream Springs Brangus

Maple Downs Murray Greys

Kel-Lee Droughtmasters

Gadgarra Murray Greys

Figtree Poll Brahmans

Fassifern Limosins and Droughtmasters

Euluma Droughtmasters

Beki Speckle Parks

Barronessa UltraBlacks, Brangus, Charolais and Charbrays. 
For more information go to the Tableland Better Beef Open Day Facebook page.
Most Popular