14 April, 2023
Test your nerve with 'death brew'
A LOCAL chilli enthusiast has joined hands with his world-renowned woodworking father to deliver an insanely powerful chilli sauce, aptly named "deathly hot", it is adorned in a hand-made coffin and is comprised of the world's hottest peppers and a special ingredient.
By Rhys Thomas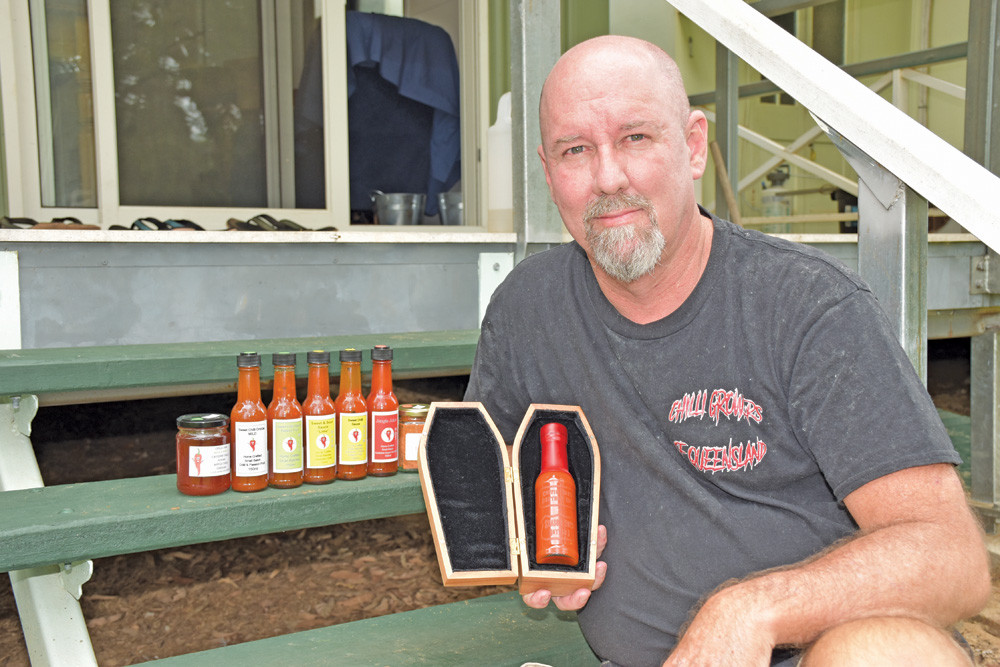 Jamie McConnachie cooked his first batch of chilli three years ago while living in Brisbane after a fateful meeting with an iron-gutted man who had a love for chilli.

He begun cooking with the sole goal of "burning this bastard" but has since fell in love with the process of making chilli and experiments with all different kinds of batches.
After returning to his family's farm on McIver Road two and a half years ago, Jamie has continued to concoct a range of different sauces and products which he mainly sells at local markets under the name Jamie's Chilli.
Jamie took over from his father's stall who is a well-known marketeer and world famous woodworker, Jim McConnachie.
Tears is the typical response Jamie receives whenever someone comes to try his chilli at a local market and a recent batch made three experienced chilli-heads leave in "discomfort".
Jamie has not restricted himself to just making chilli sauce and tries to make sure nothing is wasted in each step of the process and makes powders, jams, peanuts, pastes and all sorts of other products from his chillis.
He grows most the chillis he uses on the property including Carolina Reapers – the hottest pepper in the world.
"99 percent of the products I use I grow," he said.
Jamie uses the same four key chillis in each one of his mixes – the Carolina Reaper, Trinidad Scorpion, Ghost Pep-per and Habanero for flavour.
The heat and pungency of chilli and pepper is measured using the Scoville Heat Scale, a normal capsicum is roughly 2000-3000 units while a Carolina Reaper reads 2.2 million units.
"The best tasting chilli is Habanero, then it just comes down to how much heat you can handle," he said.
Jamie's newest concoction, Deathly Hot Coffin Brew, is a joint venture with his father as the super-hot chillis are encased in a beautiful, hand-made wooden coffin – there are only 20 available in the 150ml bottle while there will be a few more available in the smaller 50ml bottle.
The key ingredient for the new Deathly Hot Coffin Brew is Capsaicin Crystal, an extract used in mace which measures 16 million Scoville units – over five times hotter than the world's hottest pepper.
"Every conversation at every market has been 'what's your hottest', so I just keep developing," he said.
"I have avoided using additives, sprays and all that sort of stuff but because people keep asking me for it, Deathly Hot was developed.
"To give you an idea, it has 50g of Capsaicin Crystal for a four-kilo mix which is just nuts.
"I have built up my immunity to the burn and that was the first batch that I had to put gloves on because previously when I was just prepping it, my hands burned for four days – it is fire-trucking nasty."
If you would like to follow Jamie's journey head to his Facebook page, Jamie's Chilli, to get your hands on one of his chillis send him an email at jamieschillifnq@gmail.com or you can find him at the Make, Bake and Grow Markets in Mareeba every second and fifth Saturday of the month.
Most Popular