15 November, 2022
The Millaa thriller heads west for a laugh
'The Thriller from Millaa Millaa' comedian Georgina Humphries is on a mission to bring free comedy to the outback. She has booked shows in three iconic Gulf towns that aren't usually at the top of most Brisbane performers lists.
By Sally Turley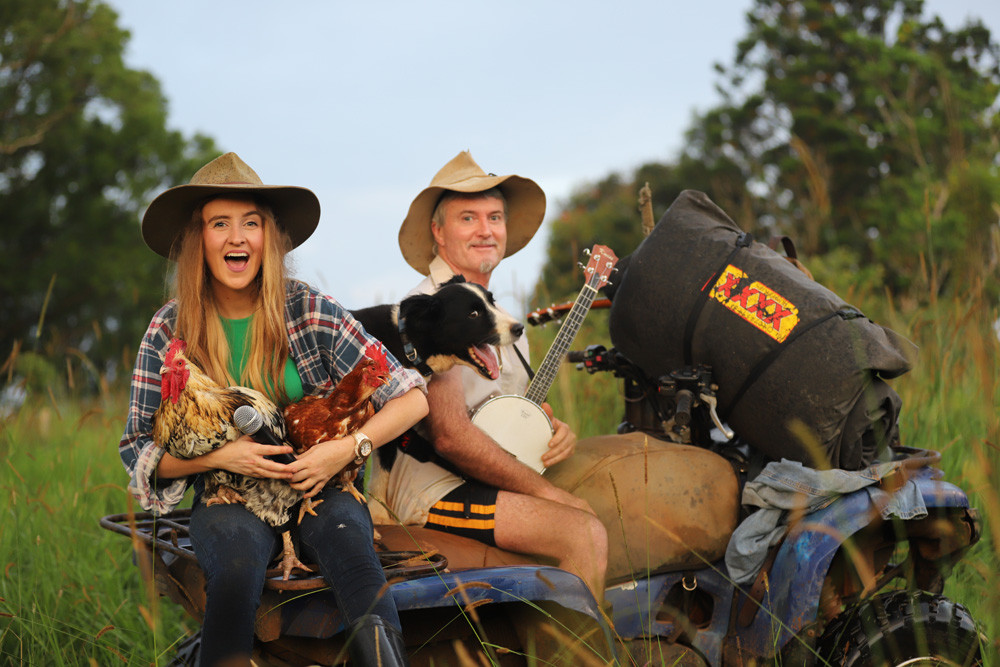 Please Note: The date for the shows were incorrectly printed as December, the Correct dates are 18th, 19th and 20th November. We apologise for any inconvenience this may cause
Residents of Einasleigh, Croydon and Karumba are officially invited to buy their dinner and watch a free show at their lo-cal hotels in the lead up to Christmas next month. Using money earned from previous performances, this self-funded tour pays homage to Georgie's love of regional towns and family tradition.

Raised on a Millaa Millaa dairy farm with her parents and grandparents, it took Georgie a while to realise that getting bucked off one of the family's dairy buffalos at nine years of age wasn't necessarily everyone's standard childhood experience.
But it was great material for a stand-up comedian, so she swapped her gumboots in 2016, for Brisbane, a microphone and the dream of a life on the stage. The 24 year old now appears regularly at the Sit Down Comedy Club in Brisbane and has been a guest panelist on ABC Radio Brisbane numerous times.
As her career continues to grow legs, Georgina works multiple jobs alongside almost nightly standup comedy performances around the city. She produces at a radio station, has worked in television casting and at the Brisbane Exhibition.
But her love of country towns has persisted.
"When I was little, my Dad and I would choose an area off the beaten track each year and do a road trip there together. I loved meeting the people there, hearing their stories and learning about each town," she said.
"I wanted to put a different spin on this trip, where this time I was the one entertaining the locals. I will be delivering a mix of my best original rural jokes plus some brand new ones I have written especially for this tour.
"I am excited to give people in each community a little peek into life in the city, from my perspective, but I also have a feeling I might just be lucky enough to pick up some great new material and stories from them along the way.
"My dad Mitch, a former band musician, will be helping me with the show's sound and lighting and I think he might be keen to open the show for me with a humorous song or two, putting the crowd in the mood.
"I flew my Mum Brigitte down to Brisbane to open for my two sold out shows there recently and the crowd absolutely loved her - she was a hard act to follow! I love having my talented parents being physically part of the show.
"They already feature a bit in my material, so having them there on stage is just the cherry on top. I think it makes the jokes even funnier when the audience have met them in person.
"There's something special about regional communities, the people you meet are real characters and connecting with them through crazy stories they can probably relate to will be a real treat.
"All the shows are free but the yarns I've already heard from some of the locals while organising this tour have been priceless."
For free bookings, please contact the following venues: Einasleigh Hotel Friday 18 November 7pm, phone (07) 4062 5222. Croydon Club Hotel Saturday 19 November 8pm, phone (07) 4745 6184 or Sunset Tavern Karumba Sunday 20 November 7pm, phone (07) 4745 9183
Most Popular