29 September, 2023
They Are Why
Every year, National Police Remembrance Day (NPRD) is celebrated on 29 September  and is a day for people to pause, remember and honour police officers who have passed in the execution of duty.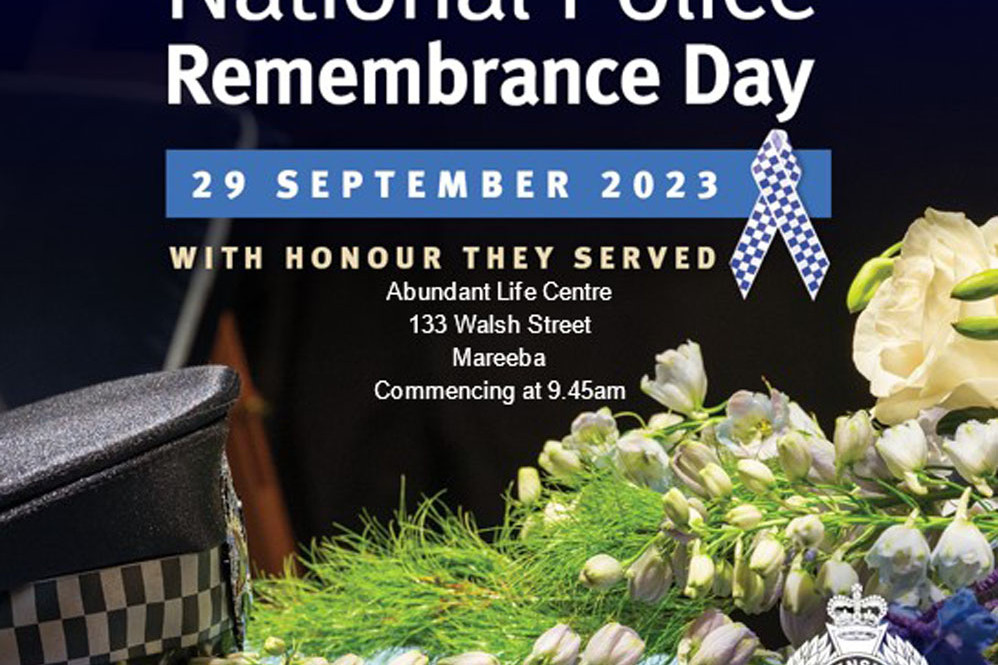 We also remember and honour officers and employees who have passed away over the last 12 months from injury or illness whilst not on duty.
Here, in the Tablelands Patrol Group, NPRD is celebrated alternatively in either Mareeba or Atherton. 
This year Mareeba will host the service at Abundant Life Centre, 133 Walsh Street Mareeba starting at 9.45am. 
We would like to extend an invitation to members of the community to join, past and present members of the Queensland Police Service, members from the Australian Federal Police, other Australian Policing jurisdictions and members from Emergency Service Organisations as we remember those who have given the ultimate sacrifice.
Members of the community are encouraged to participate in this tribute by wearing a Remembrance Ribbon and attending the Remembrance Day Service.
Being a police officer is not an easy job and a policing career can be diverse with different roles people can aspire to. It is challenging and rewarding, and we serve the community to maintain law and order, whilst trying to reduce the fear of crime and protect the community.
National Police Remembrance Day has been held in regional centres throughout Queensland since 1989 and is observed annually in September as it marks the Feast of the Archangel, St Michael, who was always fighting evil.
We remember the 13 local officers who have died while  serving this Patrol Group, beginning with Constable Abraham Woods in 1872.
We honour our fallen by lighting a candle for them and every year telling the story of different officers who have passed so that we can commemorate their service. 
This year we celebrate the life of Acting Senior Constable Casey Blain on this the 10-year anniversary of his passing.
Acting Senior Constable Casey Blain was not only respected by his fellow officers but also by members of the public.
Casey was relieving in Georgetown for a few days over the 2013 Easter break to help support road safety initiatives.
While out conducting patrols of the area, he was involved in a fatal traffic crash when his vehicle struck the bridge at Routh Creek about 15km east of Georgetown on Good Friday, 29 March 2013.
Most Popular