3 April, 2023
Thunder clinch final
FROM finishing bottom of the ladder last sea-son to becoming the 2023 premiers, the Twomey Schriber Thunder have finished the Barrier Reef Big Bash in style during their final against the Designer Home Daredevils on Saturday night.
By Rhys Thomas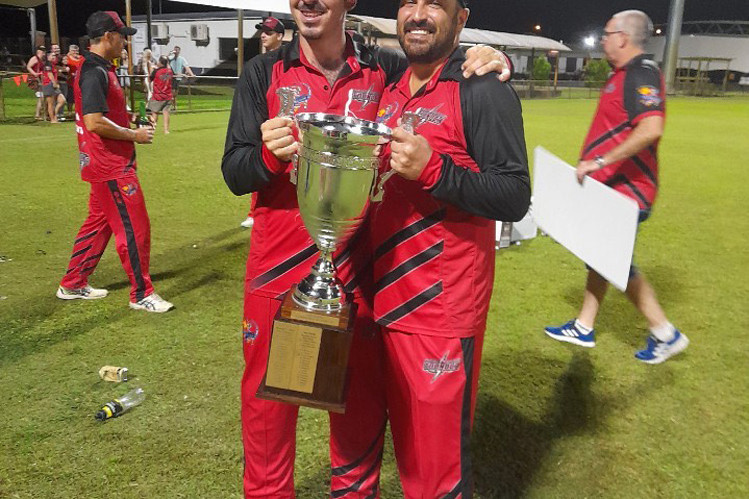 Going into the finals, Thunder captain Tom Boorman knew it was going to be a tough challenge as the Devils were supercharged from their semi-final win on Friday night.

The Daredevils had arguably come off one of Cairns' crickets most impressive run chases after they successfully chased down 176 just one wicket down against the Piccones Badgers.
"To be honest in my opinion that was one of the best run chases in Cairns' cricket ever," Boorman said.
Boorman won the toss and decided to bat first which was his tried and tested method all season – every game the Thunder batted first they won and the final proved to be no different.
"Going into the game we made 130 odd which we thought was probably under par," he said.
"That Daredevil team has five or six players that you need to knock out early, getting Phelps in the first over was key and Freebody batted well again.
"Then you've got Dan Parnell and Brenton Edwards the two next big hitters."
130 proved to be a reachable score for the Devils as they got off to a flyer and were well on their way to back-to-back wins when they were 2/80 however the Thunder held their nerve.
Thunder strike bowlers Jordan Fulton and Michael Salerno created an opportunity and flipped the game on its head after taking three quick wickets to have the Devils' line-up in all sorts.
This proved to be the pivotal point in the game as the Thunder took control from then onwards and rallied to finish the game in style.
"We just held our nerve, we did not panic even though they were two for 80 chasing 130 so the game was all theirs," he said.
"We managed to get quick wickets and I think they lost eight for 38."
The game ended with a run-out by Thunder keeper and Mareeba's own Brendan Falvo.
Boorman said he is looking forward to returning as a captain of one of the four teams next season and lead them to another finals victory.
Most Popular