30 January, 2023
TRC Australia Day awards 2023
A WOMAN who devotes her time to making Malanda a great place to live and a teenager who has already achieved much for her age were honoured to have been selected as the Tablelands Citizen of the Year and Young Citizen of the Year at a ceremony last week.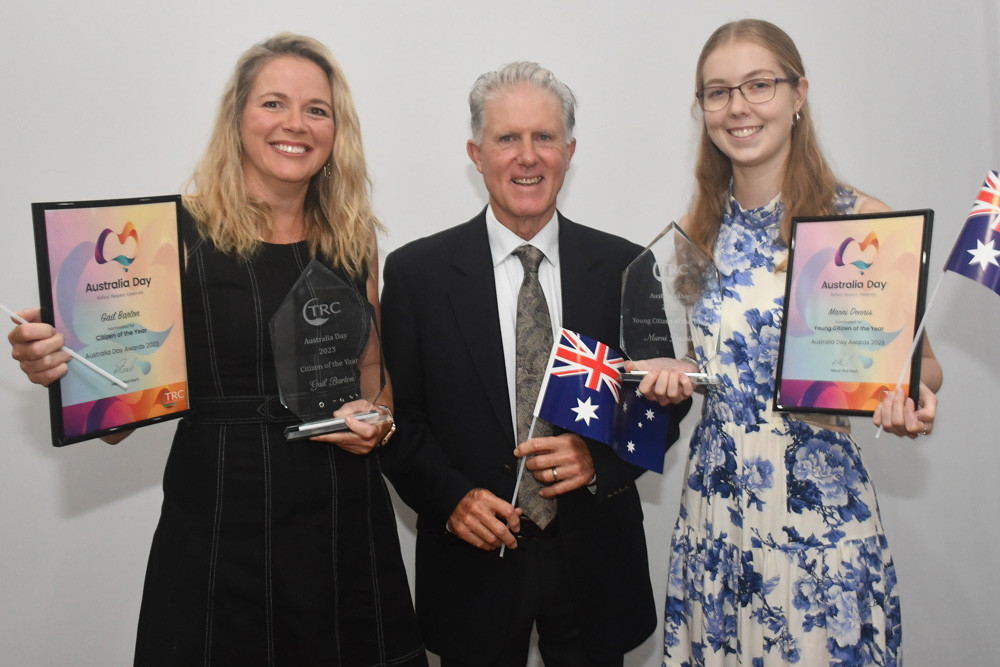 As the volunteer secretary of the Malanda Chamber of Commerce, Gail Barton has been described as "the epitome of selflessness and determination".
She has been pivotal in the redevelopment of Jack May Park and pump track, and a key organiser in the town's Queensland Day Family Fun Day, Christmas in July trivia night and, most impressively, the annual Malanda Shop Local Christmas Street Festival.
Gail also participated in the TV program "Adventure All Stars" to raise funds for the Moyamoya Australia, and is currently fundraising for local charity "This Strong Mum".
"Year after year Gail volunteers an insurmountable number of hours to benefit the Malanda community and she is an absolute inspiration to all," her nomination read.
Humbled by the accolade, Gail said she was so sure she wouldn't win the prestigious award, she had not even considered writing an acceptance speech.
"There are so many people involved in what we do, it's a real team effort and we collaborate with the local schools and other groups – you can really achieve something when you all work together," she said.
"I was honoured to receive my nomination – I do a lot of work in our community because that's my passion, my purpose, that's what gets me up in the morning, and I love giving back.
"I could not do what I do without the support of my family, my friends and the people who are in organisations like the Malanda Chamber of Commerce.
"We really are a spectacular chamber – we have 73 members and when we put on events, it's not just me – it's a team of people. I thanks those people who come and put their hand up because honestly, nothing happens without volunteers."
As the 2023 Young Citizen of the Year, Marni Dennis was also humbled at being chosen for such an honour.
"Thank you to everyone for supporting me through this journey and thanks to my school (Atherton High School) for the opportunities they presented to me, and thanks to the community for supporting me – I am grateful for the opportunity to give back," she told the gathering.
The 2022 Atherton State High School captain is described as "an inspiration and role model" by contributing to the community through the Tablelands Regional Council Youth Advisory Committee, Tablelands 2030+ forums, ANZAC Day ceremonies, and other community events.
She has represented the Tablelands in the State Honours Ensemble Program, and at various science and technology forums and competitions. Marni also constantly develops her leadership skills to benefit her peers.
Mayor Rod Marti said it was "heart-warming" to see so many people nominated, people who had "contributed to our community as volunteers, and have enriched our lives with their involvement and success in sports, arts, industry and innovation".  
"These people have demonstrated the qualities of the Australian spirit," he said.
And he spoke of the importance of Australia Day as a time for reflection.
"It's a day to reflect on our history – its highs and its lows. And to write the new chapters. It's a day to respect the stories of others. Today, we celebrate our nation, its achievements and most of all, our people," he told the audience.
SPORTS SUPPORTER AWARD
Annette Schep
Annette has repeatedly displayed an exemplary attitude and commitment to taekwondo and the community through her dedication to the students and families of her classes.
She is a passionate advocate for women's self-defence and has conducted free women's self-defence classes.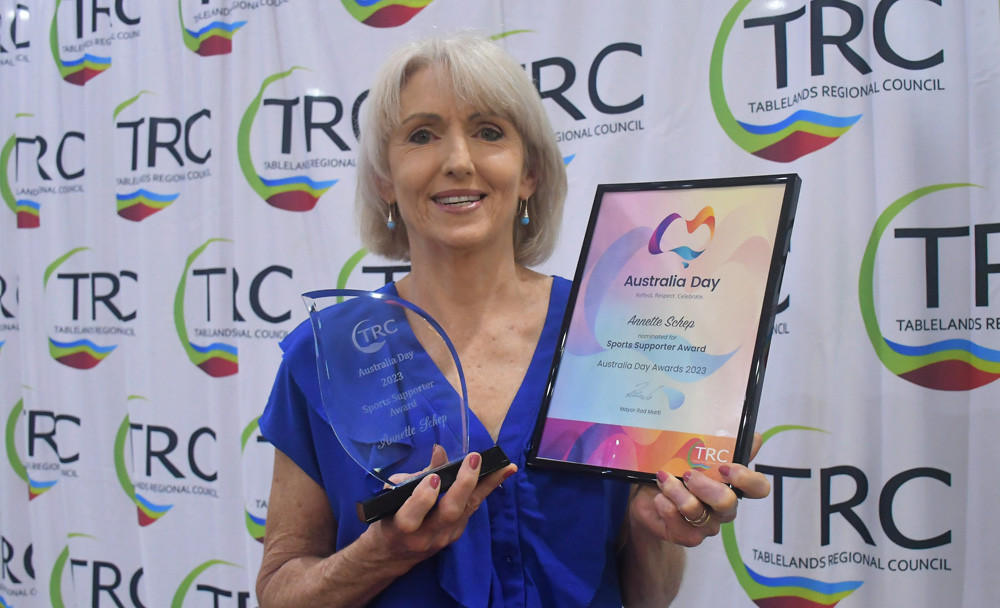 Annette adapts her teachings to accommodate people with learning and physical disabilities, and she is an amazing coach, mentor and inspiration to hundreds of her students.
Annette has supported many young children and adults to increase their Taekwondo skills, self-esteem and self-defence skills. She puts in endless unpaid hours to make sure everyone has the best opportunities to achieve goals.
JUNIOR SPORTS AWARD
Breanne Wadley
Breanne is a valuable female role model and an asset to the Tinaroo Sailing Club and Australian Open Skiff Association. She has won national and state championships and is a willing sailing instructor.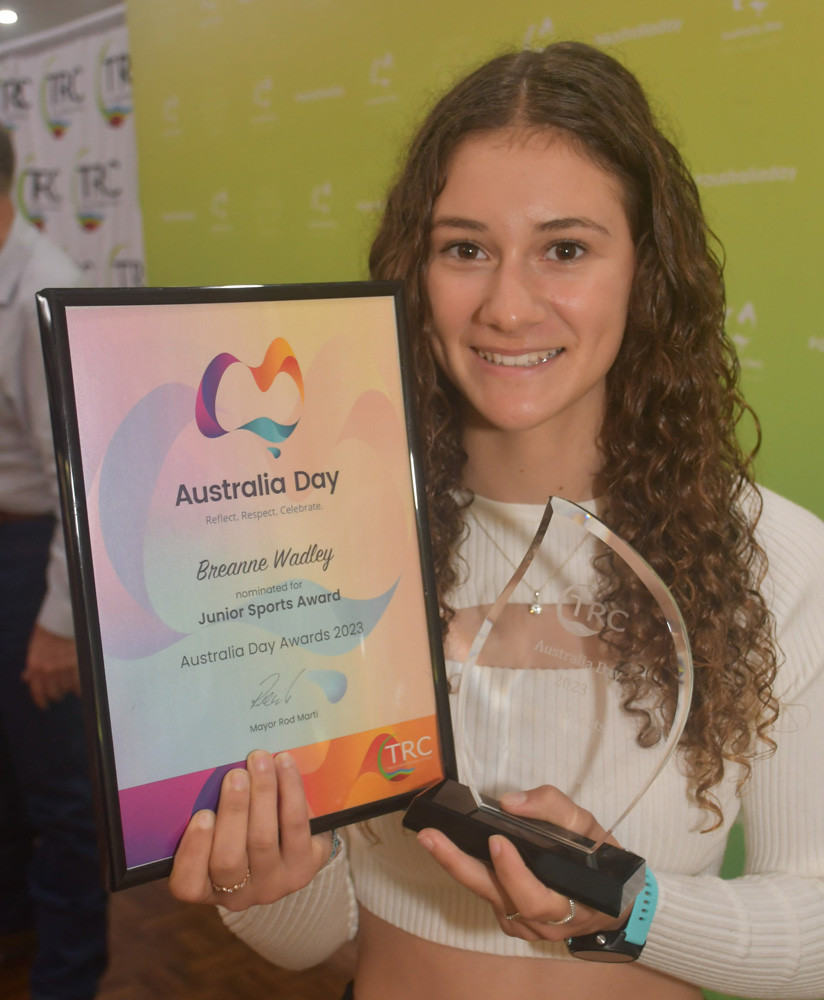 Breanne is regularly recognised for her behaviour on and off the water, and is well liked by her fellow sailors. She is very committed to her sport, training on Lake Tinaroo and in Brisbane as part of the Royal Queensland Yacht Squadron Youth Squad.
Breanne uses every opportunity to expand her skills so that she can continue to be at the top of the sport she loves.
CULTURAL AWARD
Rebel Warren
Rebel is a quiet yet significant contributor to the arts on the Southern Tablelands. For over 30 years she has consistently and willingly contributed to instrumental music and students, and provided entertainment to the community in so many ways.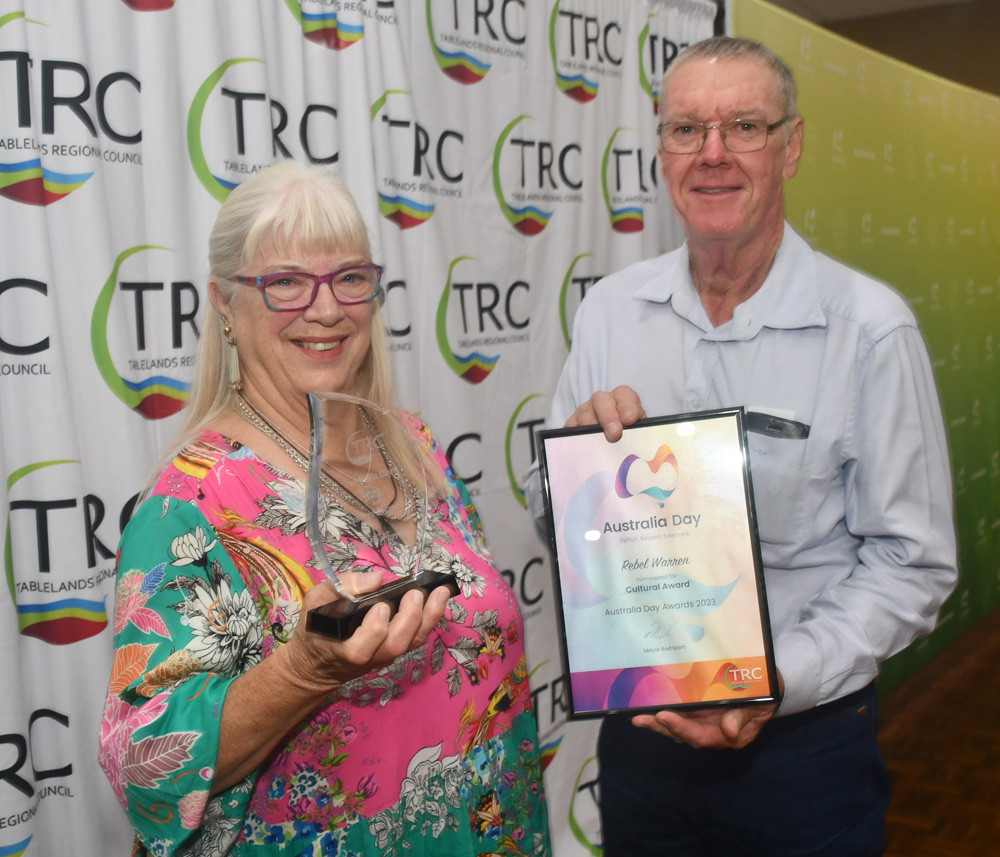 Rebel has inspired, mentored and encouraged young people to embrace music and to continue with their instrumental path. She is a valued member of every band and theatre production she is involved with and has enriched the music scene on the Southern Tablelands over many decades.
JUNIOR CULTURAL AWARD
Atherton Performing Arts Youth Theatre
APA Youth Theatre is a group of 30 actors aged between nine and 17 years. Throughout 2022 this group has shared their joyous and amazing talents, and excelled in two full-length quality classic plays – "A Midsummer Night's Dream" and "Lord of the Flies".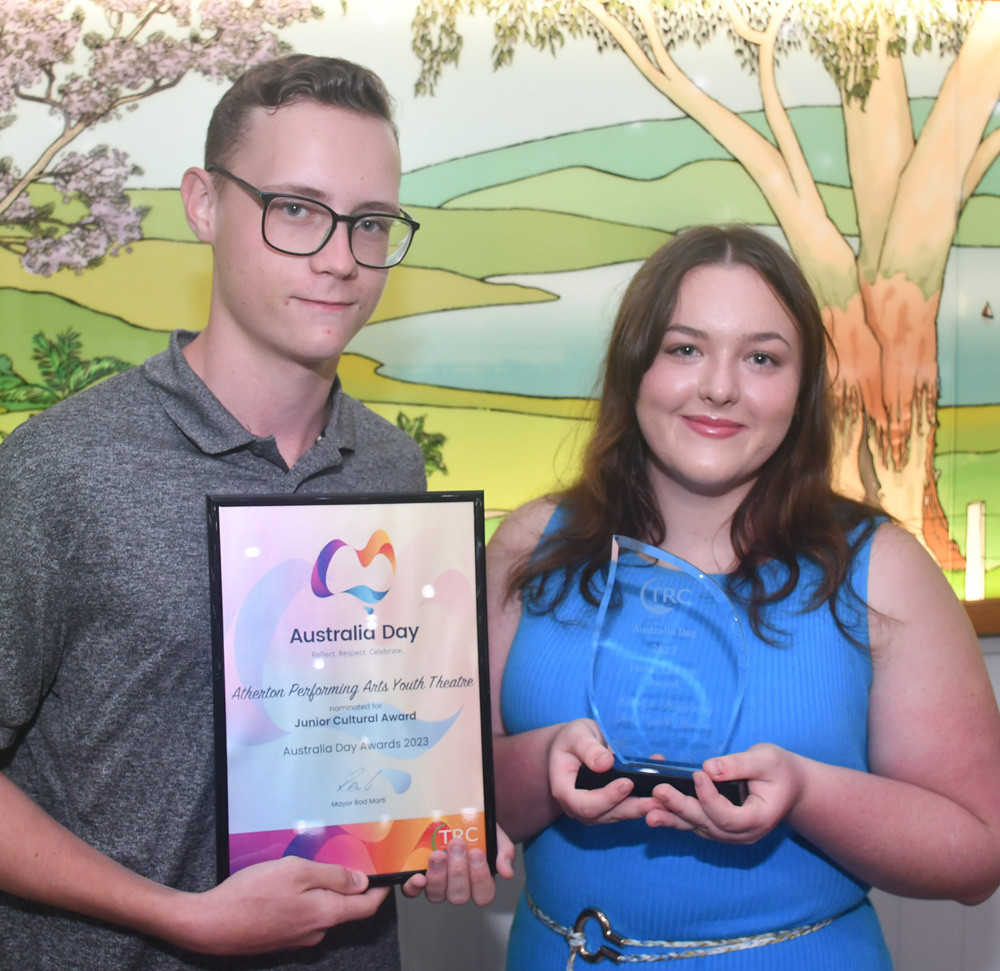 Their skills have developed throughout the year and was at such a high level after their two major productions that it took them only four rehearsals to prepare for the FNQ One Act Play Festival. The group has contributed significantly to arts and cultural awareness and appreciation in the Tablelands community.
INCLUSION AWARD
Atherton Tableland Agricultural Society
The Atherton Tableland Agricultural Society is leading community inclusion by example. They have embraced the community as a whole and are striving to improve and build on their learnings.
In partnership with Tablelands Regional Council and Disability Matters, the society introduced a companion card for free entry for carers/support workers, and all abilities art and craft classes.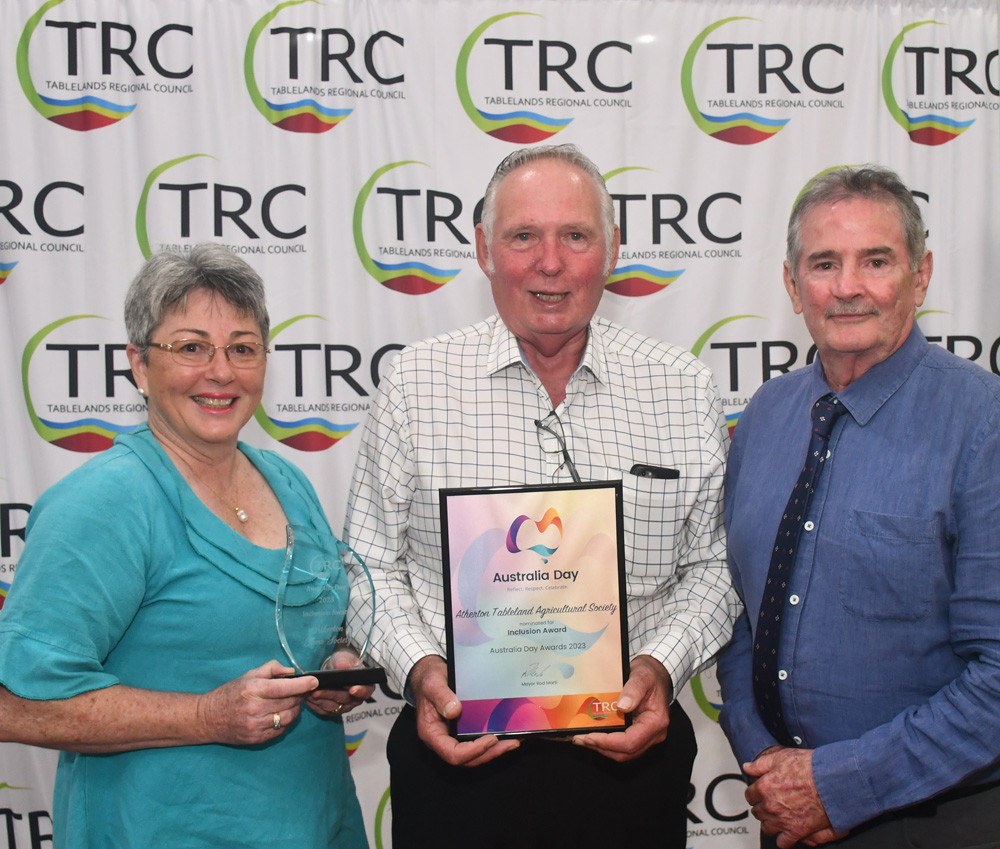 Show goers can also visit a sensory room, which lowers music, has no flashing lights and makes the show available and enjoyable for people with sensory overload. This year they have also introduced an Indigenous art category.
COMMUNITY SERVICE AWARD
Peter Tuck & Tableland Trees, Trails & Tracks
For the past three years Peter and the Tableland Trees, Trails, and Tracks (T4) group have been planting and maintaining the trees along the Atherton Tablelands Rail Trail.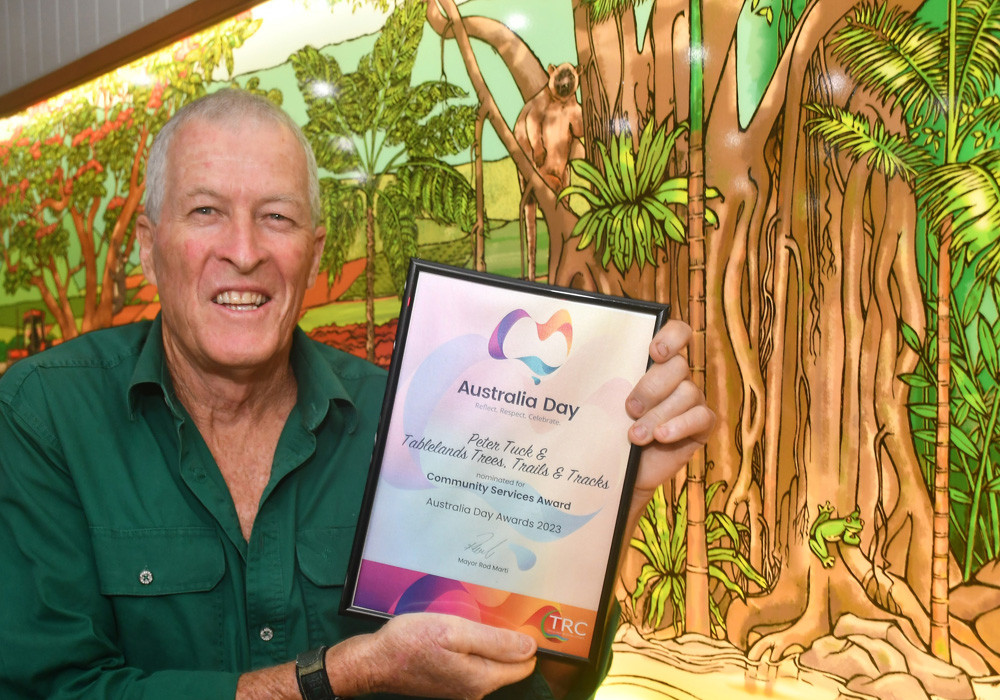 More than 2600 trees have been planted during 2500 volunteers hours. The trees are endemic and Peter has collected seeds and propagated approximately 1000 seedlings. Without their service the Rail Trail would not have been developed and beautified to the standard it is.
COMMUNITY EVENT AWARD
Malanda Christmas Street Festival
The Malanda Chamber of Commerce's annual Christmas Street Festival is one of the largest community events of the year, not only for Malanda, but for the entire Tablelands.
Attracting over 2000 people, the evening is a quintessential example of community spirit and locals supporting locals. The event kicks off the town's Shop Local Campaign and showcases up to a whopping 80 local market stalls and businesses.
The event brings many aspects of community together for one shared celebration — with the local schools, sporting clubs, organisations, food vendors and businesses all involved in showcasing the best the Atherton Tablelands has to offer.
Most Popular