7 October, 2022
Trees planted in honour of Nellie
THE legacy of Nellie Ryan was recognised last week, as her descendants, councillors and the town of Almaden came together to plant white-flowering trees in her honour.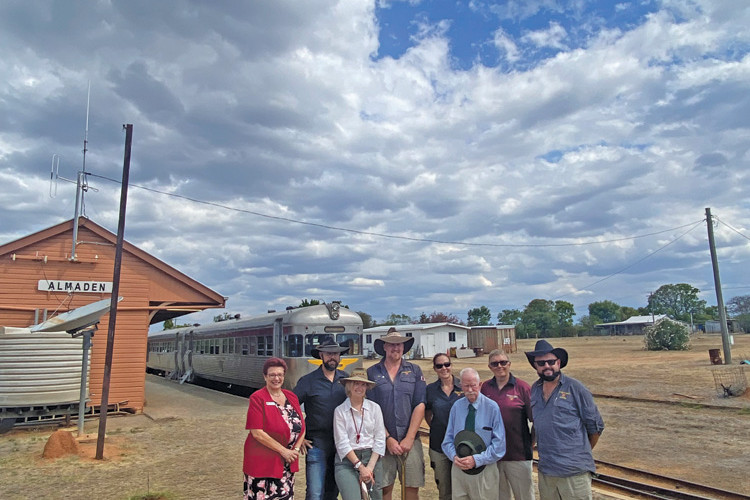 Nellie passed away 118 years ago of tuberculosis whilst travelling home to Georgetown after visiting a doctor in Townsville.

Buried in the Almaden cemetery, her headstone read: "Dearest Nellie, you we loved and will forever, though from us you have flown, but in our memory, you never forgotten shall be while your grave marks the spot near that white blossomed tree".
Travelling through the small town, Marion and Donald Lawie were intrigued by the message on her headstone, with no "white-flowering tree" in sight throughout the whole of Almaden.
They discussed the possibility of replacing the tree but there was no way to determine what species it could have been, yet they agreed it would need to be hardy and native to survive the outback climate.
Last Wednesday, Almaden locals, relatives of Nellie Ryan and well-wishers watched on as young native bauhinia (Lysiphyllum hookeri) were planted throughout the town.
"You can see that I'm a farmer's daughter," Mareeba Mayor Angela Toppin she said as she expertly wielded a golden shovel to plant the young tree at the cemetery.
Trees were planted at the Tamarind Gardens Caravan Park by Tourism Tropical North Queensland CEO Mark Olsen, at the Railway Station by Wil Kemp, driver of the Savannahlander train, and in the gardens of the Railway Hotel by Mr Lawie's grandsons George and Ted, and Ryan family members Beth and Emma.
These plantings signify that the welcome to strangers is still strong in this resilient outback town and celebrate the community links to be found across the Savannah country.
A commemorative plaque, funded by local state MP Shane Knuth, was placed at the cemetery with the Mayor's tree, with another plaque being donated by Geoqube who are currently prospecting in the region.
A number of local residents have volunteered to water and care for the trees with Nellie's relatives making plans to meet up here again in the future
Most Popular