17 May, 2023
Unique truck tells indigenous story
A LOCAL business has received a one-of-a-kind indigenous art wrapped truck that depicts the connection and gathering of communities, courtesy of Volvo, to be presented and displayed at the Brisbane Truck Show this week.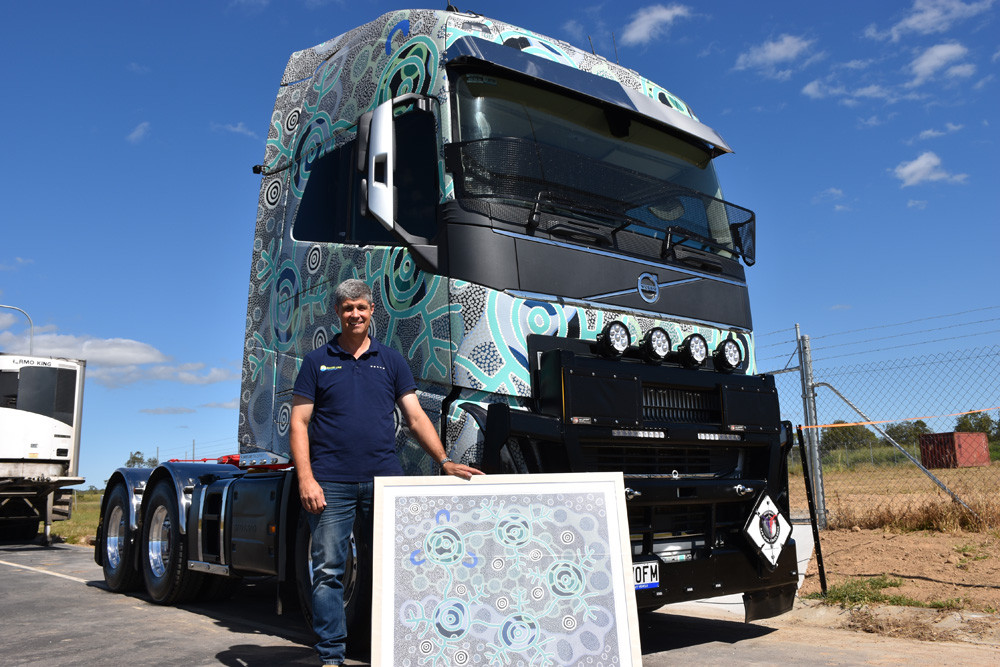 Family-owned and operated transport company, Swiss Line Transport, received a brand-new Volvo Globetrotter Euro 6 wrapped in a unique artwork created by Ipswich-based artist Jacob Sarra after owner Andre Voegeli put forward an application.

The artwork took 25 hours to create and symbolises Volvo's commitment to rec-onciliation, the company's acknowledgement of traditional custodians of country throughout Australia and their connections to land, sea and community.
Andre went up against numerous, large, well-established transport companies across the state in a bid to receive the truck.
In the end, it was Andre's own personal story and connection with indigenous culture that led him to receive the special, one-of-kind vehicle.
Andre spent much of his youth travelling through remote indigenous communities in the Cape and Kimberly areas with a soon to be lifelong friend who was an Aboriginal tour guide at the time.
He was taken through many sacred sights throughout and while listening to the cultural stories, Andrew learned the importance of cultural respect for the people and places of Australia.
"When I came to Australia as a young lad, I had the chance to meet and work with Aboriginal communities in the Kimberly, Kowanyama and Pormpuraaw," he said.
"I worked in the tourism industry and I met some lovely people including one of my best friends, Larry Ford, an indigenous man who lives and works in the Kimberly at present."
The new truck is the pride of Andre's fleet and he hopes to use it as a talking point to create discussion around connection and community of all cultures in Mareeba and surrounding areas.
"I gave Volvo my story, they asked other companies to do the same and we never thought we would be the ones to receive this truck," Andre said.
"We are a small company with only seven trucks, a little fish in a big ocean and we got it.
"I want to do the right thing with it, when driving the truck you are representing the story and it's not mine, it's the artist's and it brings people together.
"I drove it down to Innisfail and indigenous boys gave me heaps of thumbs ups, they really enjoyed it."
The truck featured in the recent Great Wheelbarrow Race downtown parade and is set to be officially revealed at the Brisbane Truck Show running from 18-21 May.
Anyone interested to have the truck attend their event or be displayed can contact Andre on 0457 816 354.
Most Popular