27 September, 2022
Walking for a cause close to the heart
THE Hogan family of Mareeba will be doing the "Two Feet and a Heart Beat" charity walk this year, after their nine-year-old daughter, Lillie, was diagnosed with a condition that causes her heart rate to escalate to dangerous rates.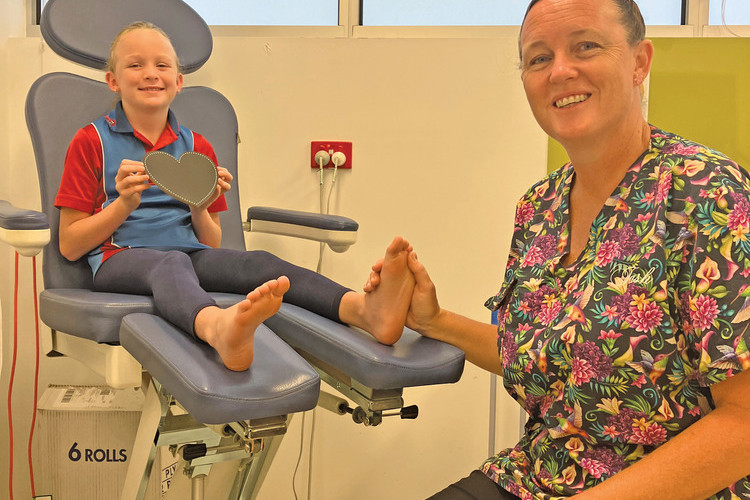 The "Two Feet and a Heart Beat" walk is an annual event, raising awareness for the Heart Kids Foundation which supports kids and their families struggling with heart conditions.

Last year, parents Tash and Steve found Lillie on the floor after walking down the hallway, with her "heart pounding out of her chest" and a severe headache.
After attending the Mareeba Hospital, they soon learned Lillie had Wolf Parkinson's White Syndrome, meaning the nerves and nodes in her heart were overfiring and her heart rate was escalating to life threatening levels.
Tash, who is also a podiatrist at Amaroo Medical, contacted Heart Kids Queensland Branch to help support them through Lillie's diagnosis, seeking specialist care, prognosis and possible treatments.
Through Heart Kid's care, Lillie is able to maintain low to nil levels of episodes and is able to live a fulfilling life with very limited restrictions.
To give back to the organisation that has helped Lillie stay on her feet, the Hogan family will be doing the "Two Feet and a Heart Beat" charity walk on 16 October, enabling Heart Kids to continue the hard work they do.
So far, the "Hogan Heroes" have already smashed their fundraising goal of $500 and are thankful for any donations made to help children suffering with heart diseases and conditions.
The Hogan family will be fundraising up until the event and Tash is calling upon local businesses to help put together a wheelbarrow raffle – as wheel-barrows are unique and special within the Mareeba community.
The wheelbarrow will do a few rounds up and down Byrnes Street and will be at the walk at the Cairns Esplanade.
To donate to the fundraiser, contact Tash on 0431 704 415 or email hoganfamilyessentials@gmail.com.
To sponsor the family, visit www.twofeetheartbeat.org.au/my-fundraising/3123/tash-steve-lillie-and-grace 
Most Popular