9 December, 2022
Winning butcher keeps it local
The Yungaburra "purveyor of fine meats" who started as the "clean up boy" at Bones Knob Butchery 35 years ago, has just been identified by the Meat and Livestock Australia grading system as the butcher supplying the best beef produced in Far North Queensland...
By Sally Turley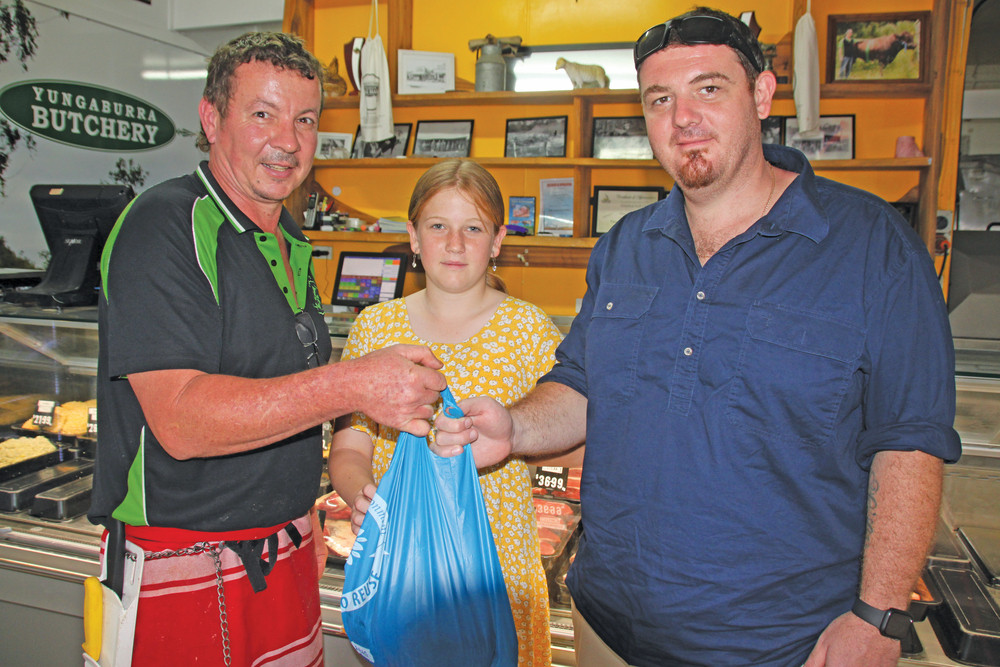 Glenn Plath, who bought the Yungaburra Butchery just over eight and a half years ago, said he "wasn't fussed" about entering the recently run 'Best Beef Awards,' but finally got around to it after three gentle reminders from competition organiser, Cailan Byrnes.

"It was the first meat industry contest I have ever been in and the results certainly weren't what I was expecting. I knew the British White cattle I was buying off Peter and Jacki Reeves were good, but there was a lot of competition," he said.
"My engraved winner's plaque should arrive next week, in time for me to start selling the aged, prime cuts from the winning carcase. I don't think they will take too long to go," he grinned.
"I have known Peter since I was a kid and have bought quite a few cattle off him over the years. He just calls me when he has some ready. I go out and have a look at them in the yards, and draft up what I need.
"I have had a bit to do with the British White cattle too, I ran into a few of them when I had my mobile butchering business and I noticed the car-casses always had the right amount of everything – they were always plump, had good marbling and fat coverage, with minimal waste," Glenn said.
Glenn has been around cattle all his life, growing up on Springmount Station near Mutchilba, before working on cattle properties like "Dutton River," outside Hughenden and "Olivevale Station" near Laura.
"This award was great because it gives butchers a bit of recognition for what they do and it highlights the quality of meat we have here on the Tablelands," he said.
"I always try to source good, soft Tableland, grass-fed beef to put through my shop.
"I figure if I am going to be in this business, I should offer customers something different from what they can get in a supermarket. A lot of butcher shops just buy carton beef, but I believe customers are now looking for something else.
"A lot of customers ask us if the meat is sourced and processed here. The grey nomads want to localise their eating experience as they travel through our region and the locals want to support their farming community.
"We always get a lot of good comments from our customers about the meat. I have a lady who comes up from Cairns every few months, she brings her esky and fills it up each time. Covid has changed the way people shop, they have no limits, they just stock up so they aren't caught out in an emergency.
"Grass fed beef tastes completely different to grain fed, so I don't chase smaller or grain fed animals. That meat just doesn't have the flavour I want. I look for 2 tooth, grass fed, 30 to 36 month old animals that will dress out to 330kg.
"I buy a lot of Droughtmaster cattle. They are an honest breed, but I don't think it is so much about the breed, I judge them more on their quality. They have to be by good bulls and they have to be still going forward," he said.
"A pure Brahman animal in the right condition, with the right combination of genetics, that is still putting on weight will still eat very well. I believe a three-year-old bullock deserves three weeks aging, then once its cryovaced for a while, it will just melt in your mouth.
"The animal itself is important, but what hap-pens before and after I buy it matters a lot. Its treatment from weaning on-wards affects its eating quality, as well as the techniques we use during processing.
"Butchering has changed a lot over the last few years. I sell mainly fresh briskets for pulled beef these days, hardly anyone
wants corned meat any more. A lot of minor cuts like beef cheeks, pork belly and collar butts have become big ticket items for slow cooking and gluten free, crumbed products are in big demand.
"I have changed occupations a few times over the years since finishing my apprenticeship, but I always came back to my trade. I think I am about ready to take another one of those breaks right now, just sell up and go fishing for six months," he said.
Most Popular